A PARIS APARTMENT

6eme Arrondissement
Luxembourg Palace & Gardens

Here is your opportunity to live as a Parisian, in the quiet, beautiful area near the Luxembourg Palace & Gardens. This is where Parisians themselves prefer to live. You live in the midst of cafés, patisseries, boulangeries, and boutiques visited by Parisians. The bustling tourist spots you will be sure to experience are nearby.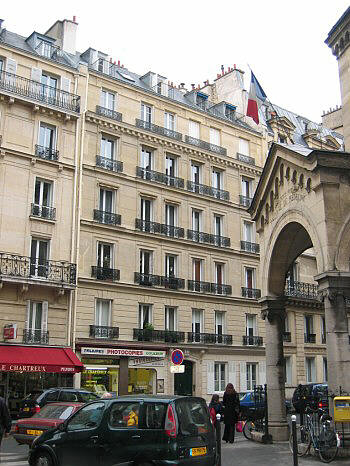 Our apartment is located at 6 rue des Chartreux, in this beautiful 19th century building. It is privately owned by us, Pat & Frank Maloney, who live and work mostly in the United States. We have been coming to Paris regularly since 1997, working on our Travel for Teens program (below). We have explored many places to stay throughout the city, and we have chosen the sixth as our Paris home away from home. Purchased in Winter 2004, it was completely renovated that Spring, and we began renting in June 2004.

Covering more than 45 square meters, or 500 square feet (which is large by Parisian standards), the apartment consists of two bedrooms, a living room, kitchen, and bathroom. Everything is new as of 2004: paint, furniture (some custom), fixtures, appliances, plumbing, oriental rugs, drapes, locks, utensils, ... everything. The hardwood floors (original) are refinished, and the bath is marble. With the two bedrooms and a custom sleep-sofa in the living room, it accommodates six. We have a flat-panel TV, cable, DVD player, stereo, phone, range, washer/dryer, microwave oven, smoke/fire detectors, a really great coffee maker, and a high-speed wireless Internet connection. It is located on the French first floor, which is one wide, sweeping flight of stairs up from the front door. There is also an elevator, making move-in and move-out easy. Facing the interior of a private court yard, it is very quiet. Although it rarely gets uncomfortably warm in the summer, the apartment has air-conditioning and ceiling fans in every room. There is a decorative fireplace in the larger bedroom.

Adding to the tranquility of this area, rue des Chartreux is closed to vehicular traffic on Sundays and public holidays. Parisians walk, cycle, or blade along miles of city streets, participating in project Paris Breathes. Notice the conveniently-placed Bar le Chartreux with its red awning in the photograph.


---
Here is the floor plan.

---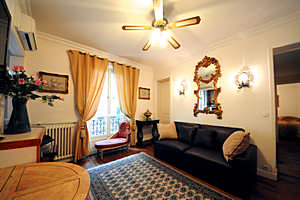 This is your view as you enter the apartment. Click on this thumbnail to see a hi-def image. The living room is nicely appointed with antiques and repros. The sofa, newly installed in March 2012, pulls out to sleep 2 people. The hardwood floors have been refinished, yet retain their 19th century style and charm. On the right is the hall to the bedrooms. Below are thumbnail views from the living room to the interior court yard.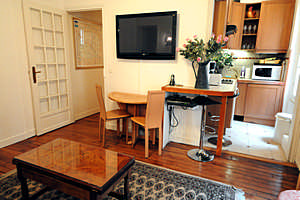 This is the view in the other direction (again a thumbnail). The doorway on the left is where you enter. There is a huge framed Paris Metro map in that hall. You can check your stops as you leave the apartment to explore Paris. The large flat-panel TV is mounted on the wall. And underneath it is a fold-out table for dinner, cards, chess, whatever. It seats four. The kitchen is at the right.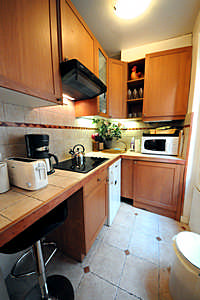 And here is the kitchen (again a thumbnail). It has a cook-top range with a hood that has a light and a fan. There is a microwave oven, refrigerator/freezer, sink, and a combination clothes washer-dryer. The cabinets hold utensils, dishes, glassware, cookware, and food. The dishes are Limoges and the crystal is French. The floor is tiled for easy cleaning. In the foreground on the left you can see a counter that wraps around into the living room. This is quite handy as it seats two people for meals. Like every other room in the apartment, there is a window to the interior courtyard.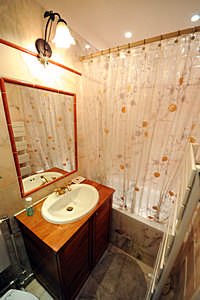 On the right is the marble bathroom (thumbnail!). The tub is deep so that you can enjoy a long soak. It has a faucet that detaches from the wall. And unlike most other French baths, ours has a shower curtain. But the French have something that's really great - a heated towel rack. The heating system for the apartment is hot water, and the radiator for the bath is fashioned into a towel rack. You can see it at the right of this picture. It is soooo nice to wrap a piping hot towel around yourself! And we have towels.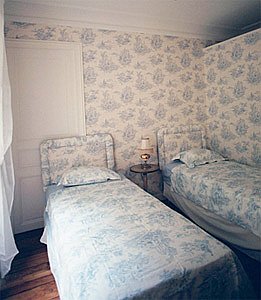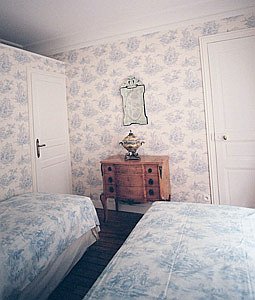 Bedroom #1 is all blue and white. It has twin beds, a small dresser, and a lighted ceiling fan. There is a reading lamp between the beds. There is a storage area that extends over the hallway leading to the bedrooms. This can be used to store your suitcases, keeping them out of your way. Like the master bedroom, there are linens, sheets, blankets, and pillows.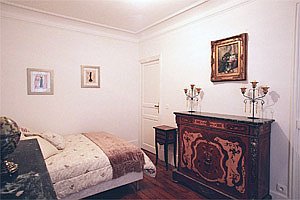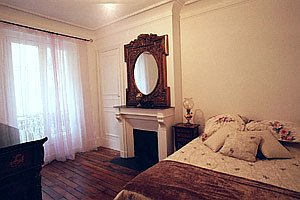 The master bedroom has an American queen-size bed, decorative fireplace, lighted ceiling fan, dresser, mirrors, and a reading lamp. There is a small air conditioner, which is rarely needed.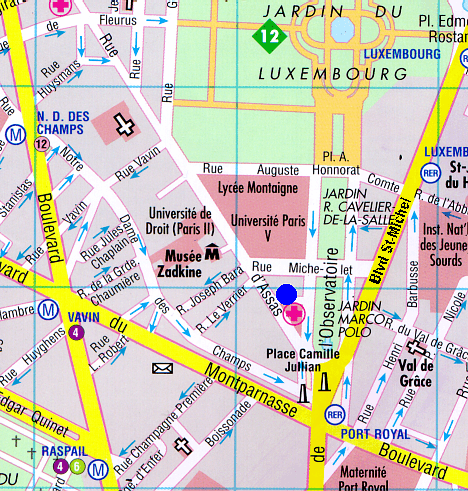 On the right is a street map of Paris near the Luxembourg Gardens, just minutes from the apartment (blue dot). If you click in the map you will see an aerial view, courtesy Google Earth. Rue des Chartreux is a short street connecting rue d'Assas with the avenue de l'Observatoire. Across the avenue de l'Observatoire is the Jardin Marco Polo, with playgrounds, ping-pong tables, and benches. This garden is actually the southernmost extension of the Jardin du Luxembourg. It is a very pleasant walk through the gardens north to the famous shopping places along the boulevard St-Germain. Below is a thumbnail of the fountain at the southern end of the gardens.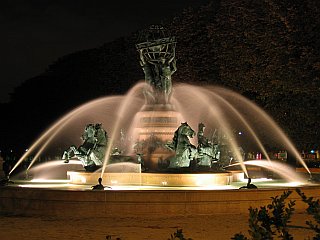 Notice the five nearby Metro stops, your passageway to all of Paris:
Notre-Dame-des-Champs

to the Tuileries and the Champs Elysées, Musée du Louvre, Musée d'Orsay


Vavin

to Île de la Cité, Notre Dame and St-Chapelle


Raspail

to the Eiffel Tower, École Militaire, Palais de Chaillot, Arc de Triomphe


Port Royal or Luxembourg, the RER line

north & south to major Metro exchanges and the airports. You can board the RER at Charles de Gaulle (CDG) Airport and, without changing trains, step off the train one block from the apartment. Trains leave about every 7 minutes (5:00 AM until about midnight) and get you to/from in about 45 minutes. Tickets cost about 10 Euros.

The Paris Metro is amazingly easy to use. Most Paris guidebooks have details and suggestions. You can click this link to see Paris Metro maps.

You can also catch the #38 bus at rue du Val de Grâce. It runs north on boulevard St-Michel to boulevard St-Germain, then to place St-Michel, Île de la Cité, Châtelet, and Hôtel de Ville. Here are the plans for the routes. One metro ticket and eight minutes later you are standing in front of Notre-Dame. Neat, eh?
Within a one to four minute walk from the apartment:

many cafés, and the aforementioned Bar le Chartreux
FranPrix (a market), two mini-marts that stay open late
two laundries, and a shoe repair shop
the Kayser (world-famous bakery)
hospitals, two pharmacies
Tabacs (news, magazines, tobacco, phone cards,...), gasoline, and a paper goods shop
two art galleries, toy store, and a photo/copy shop
bank with an ATM (very convenient and least expensive way to obtain €s)
and, of course, a Pizza Hut(!) that delivers(!!)
| | | |
| --- | --- | --- |
| A seven-minute walk south then right on the boulevard du Montparnasse and then past the Vavin Metro stop takes you to a bustling area of up-scale cafés and creperies. Several of the cafés are historically famous, and were frequented by Hemingway, Chagall, Matisse, and Picasso. The café Closerie des Lilas, at the corner of boulevard du Montparnasse and boulevard St-Michel, is where Hemingway penned "The Sun Also Rises" in a mere two weeks. This area really comes alive late at night. On the right are thumbnails of just two of our favorite night-spots. | | |
Some details:

The apartment is available to rent for four or more days. You can check to see if the apartment is available by following this link.


This apartment is for non-smokers only.


Paris time is one hour later than London time, and is six hours later than Philadelphia (Eastern Time). So, if it is 7:00 PM April 1 in Philadelphia, it is midnight April 2 in London, and 1:00 AM April 2 in Paris. You can see a world map showing present times and dates here.


Contact us for information concerning fees and any further questions you might have. In the US, 610-353-7374, or pgbmaloney@aol.com.


By the way, are you looking for a summer camp in Europe for your teenager? Take a peek at Travel for Teens. This is how we know Paris.
---

© 2008 Frank P. Maloney v.20110814